… INVITATION …
Don't forget: VERNISSAGE ON
SUNDAY
11TH JULY – 16.00 HRS.

Opening ceremony will be performed by Miss VIOLA HOLT

Live Music by Opera Star ALAN RAZZAK (TENOR) & KIMBALL HUYGENS (PIANO)


You are cordially invited to the festive opening of our
ROYAL GALLERY
EXHIBITION of July
2010
:

ARIEN WINKEL – PAINTINGS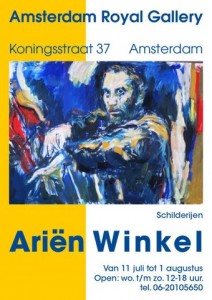 Arien Winkel (Haarlem 1944) lives and works in Enkhuizen – Noord Holland, where he was director of the Stedelijk Museum from 1974 till 1995.   A passionate artist eversince the age of 7, his favourite subjects are women and music.
With his vibrant brushstroke he seems to be conducting his own orchestra. His hands never stop moving.
We proudly present a selection of his latest creations in our exhibition of July 2010.
More information on the artist : Arien Winkel – Paintings
Royal Gallery – Koningsstraat 37 – 1011 ET Amsterdam – City Center.
With best regards: Emma Jean Brown & Janne Buurman
www.amsterdamroyalgallery.com – 06-20105650 – info@nullamsterdamroyalgallery.com