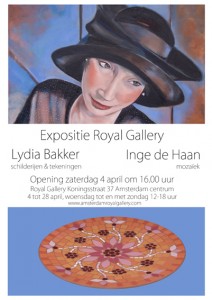 NEWSFLASH
!! :
Check www.amsterdamroyalgallery.com:

NEWS

for  Fashion Week at the Royal Gallery, THE FILM….
… INVITATION …


You are cordially invited to the festive opening of our ROYAL GALLERY EXHIBITION of APRIL 2009 :


LYDIA BAKKER : PAINTINGS    –    INGE DE HAAN : MOSAIC
Lydia Bakker (Amsterdam) likes to paint people. She often paints portraits, frequently on assignment. Inspired by memories, dreams and music, she aims to express eternal qualities of unspoiled, idyllic images. Besides her work as a visual artist, Lydia Bakker is a gifted singer of classical music. On the occasion of the vernissage she will perform works by Schuman and Schubert, accompanied by piano player Kimball Huygens.

Inge de Haan, equally born and raised in Amsterdam, started her creative education at Fashion Academy 'De Schans',
and later develloped a passion for mosaic. Tricks of the trade were acquired at the 'S-tiles' – School of Mosaics, where she worked as an instructor for five years. Sources of inspiration are nature, clothing and (native american) Indian art.


For more information on their work, please check out our website:
www.amsterdamroyalgallery.com /LINKS: Lydia Bakker (www.lydiabakker.org) & Inge de Haan (www.mozainge.nl)
The Opening/Vernissage will take place on Saturday 4TH APRIL 2009, 16.00 hrs. at the
Royal Gallery – Koningsstraat 37 – 1011 ET Amsterdam – City Center (off Nieuwmarkt)
With best regards: Emma Jean Brown & Janne Buurman
www.amsterdamroyalgallery.com – 06-20105650 – info@nullamsterdamroyalgallery.com


…..
UITNODIGING
…..
U bent van harte uitgenodigd voor de feestelijke opening van onze volgende
ROYAL GALLERY TENTOONSTELLING van  APRIL 2009:


LYDIA BAKKER: SCHILDERIJEN      –     INGE DE HAAN: MOZAIEK

Lydia Bakker (Amsterdam) schildert graag mensen. Zij schildert vaak portretten, rgelmatig in opdracht.
Geinspireerd door herinneringen, dromen en muziek, wil zij  uitdrukking geven aan een verlangen naar eeuwigheid in onbedorven, idyllische  voorstellingen. Naast haar werk als beeldend kunstenaar is Lydia Bakker een begenadigd zangeres van klassieke muziek.
Ter gelegenheid van de vernissage zal zij werken van Schumann en Schubert tengehore brengen , onder begeleiding van pianist Kimball Huygens.

Inge de Haan, eveneens geboren en getogen in Amsterdam,  begon haar creatieve opleiding aan Mode Academie 'De Schans',
en ontwikkelde later een passie voor mozaiek. De fijne kneepjes van het vak leerde zij bij 'S-tiles', de mozaiekschool waar zijn vijf jaar als instructeur werkzaam is geweest. Bronnen van inspiratie zijn o.m. de natuur, kledij en Indianenkunst.

Meer informatie over hun werk vindt u op onze website:
www.amsterdamroyalgallery.com / LINKS:  Lydia Bakker (www.Lydiabakker.org) & Inge de Haan  (www.mozainge.nl)
De opening/Vernissage zal plaatsvinden op zaterdag  4april 2009, om 16.00 uur in de

Royal Gallery – Koningsstraat 37 – 1011 ET Amsterdam-Centrum (Nieuwmarkt)

Met vriendelijke groeten: Emma Jean Brown & Janne Buurman

www.amsterdamroyalgallery.com – 06-20105650 – info@nullamsterdamroyalgallery.com