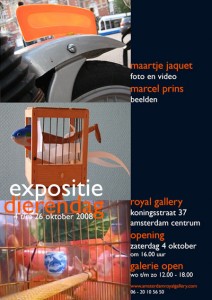 You are cordially invited to the festive opening of our
ROYAL GALLERY EXHIBITION of OCTOBER 2008 :
Introducing:
Maartje Jaquet – Photography & Video
Marcel Prins – Sculptures / Constructions
In this exhibition both artists focus from a personal conceptual angle on the theme of animals.
Inorganic, technical objects and ornamental details become living creatures.
Animals get trapped in situations foreign to their natural habitat.
The strange becomes familiar and the familiar becomes strange.
And all this happens simultaniously.
The opening date coincides with Dutch National Animal's Day.
More information about the artists and their work can be found on www.amsterdamroyalgallery.com :
Links : Maartje Jaquet (www.flickr.com/mjaquet) / Marcel Prins (www.marcelprins.nl)
The Opening/Vernissage will take place on Saturday 4th September 2008, 16.00 hrs. at the
Royal Gallery – Koningsstraat 37 – 1011 ET Amsterdam – City Center (off Nieuwmarkt)
With best regards: Emma Jean Brown & Janne Buurman
www.amsterdamroyalgallery.com – 06-20105650 – info@nullamsterdamroyalgallery.com
….. UITNODIGING …..
U bent van harte uitgenodigd voor de feestelijke opening van onze volgende
ROYAL GALLERY TENTOONSTELLING van OKTOBER 2008:
Wij stellen u voor aan:
Maartje Jaquet – Fotografie & Video
Marcel Prins – Beelden / Constructies
In deze tentoonstelling richten beide kunstenaars zich vanuit een persoonlijke invalshoek op het thema dieren.
Anorganische, technische voorwerpen en ornamenten veranderen in levende wezens.
Dieren raken verstrikt in situaties die vreemd zijn aan hun natuurlijke leefomgeving.
Het vreemde wordt vanzelfsprekend en het vanzelfsprekende wordt vreemd.
En dit alles gebeurt tegelijkertijd.
De opening valt samen met Dierendag.
Meer informatie over de kunstenaressen en hun werk is te zien op www.amsterdamroyalgallery.com :
Links: Maartje Jaquet (www.flickr.com/mjaquet) / Marcel Prins (www.marcelprins.nl)
De Opening/Vernissage zal plaatsvinden op zaterdag 4 oktober 2008, om 16.00 uur in de
Royal Gallery – Koningsstraat 37 – 1011 ET Amsterdam-Centrum (Nieuwmarkt)
Met vriendelijke groeten: Emma Jean Brown & Janne Buurman
www.amsterdamroyalgallery.com – 06-20105650 – info@nullamsterdamroyalgallery.com