… INVITATION …


You are cordially invited to the festive opening of our
ROYAL GALLERY
EXHIBITION of May
2010
:

WERNER SCHOENIG – Photography, Graphics & Paintings

MICHAEL STUERENBURG – Ceramics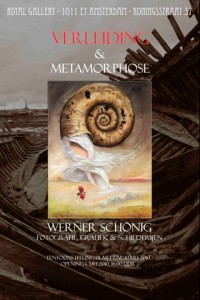 In 2009 Werner Schoenig  showed his skills in the Royal Gallery as a photographer of the female body:
delicate, refined and with remarkable precision.
This time the multitalented Schoenig shows us photographs, graphics and paintings of landcapes,  interiors,
graveyards and women, all under the common denominator 'Seduction and Metamorphosis'.
You'll get the picture when you see it.
More on Werner Schoenig:
http://fotograaf-werner-schoenig.exposeert.com/ &  http://werner-schoenig.exposeert.com/
—————-
Simultaneously on the street level floor of the Royal Gallery an exhibition of Ceramicist
MICHAEL STUERENBURG
Michael Stuerenburg (Berlin) uses Raku and Fieldfire techniques, creating both everyday utensils and art objects like sculptures, mixed technique art projects (Installations).
More info on Michael Stuerenburg : http://www.keramikatelier.eu
The Opening/Vernissage of both exhibitions will take place on Saturday 1ST MAY 2010, 16.00 hrs. at the
Royal Gallery – Koningsstraat 37 – 1011 ET Amsterdam – City Center.
With best regards: Emma Jean Brown & Janne Buurman
www.amsterdamroyalgallery.com – 06-20105650 – info@nullamsterdamroyalgallery.com