New upstairs extra EXHIBITION
: 13th March  – 11th April 2010: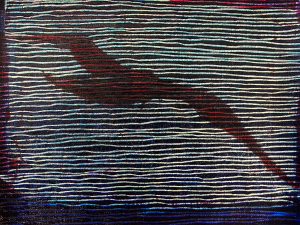 Felice (1950, The Hague) lives and works in Amsterdam as a producer and visual artist.

In 2008 she worked as Artist in Residence in the Centre d'Art I Natura high up in the Pyrenees, inspired by the Spanish Wars and frescos in old monasteries. In 2009 she went to Ireland to work in the Tyrone Guthry Centre and grew deeply impressed by the rough landscape and Irish history. These impressions were processed into small canvasses, by means of a personal technique, using several layers of oils and gold leaf.

More on our LINKS: Felice (www.atelier-felice.nl)
Note: Simultaneously a photo exhibition by Errol Sawyer , entitled 'Diofior, a village in Senegal'  is shown
on the downstairs exhibition level from 6 – 27 March 2010 (Opening 6th March – 4 p.m.).
Additionally during this exhibition there will be a display of handmade hats by Designer Yola Galinsky.