… INVITATION …


You are cordially invited to the festive opening of our
ROYAL GALLERY
EXHIBITION of March
2010
:

ERROL SAWYER – PHOTOGRAPHY:

Diofior – a village in Senegal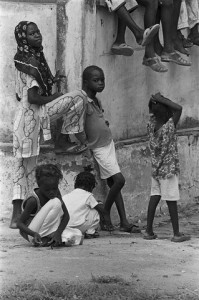 Errol  Sawyer (1943 – Florida, USA) is the son of African-American  playwright Robert Earl Sawyer (1923-1994).
Errol Sawyer grew up in New York City and currently lives in Amsterdam.
The Royal Gallery Exhibition is a direct result of a recent trip to Africa, in which he portrayes dayly life from a very personal angle. With a keen eye for detail and a sharp sense of moment Errol Sawyer turns the usual into special.
All the shots in this exhibition are in black and white.
More information on the artist: www.errolsawyer.com

The Opening/Vernissage will take place on Saturday 6th MARCH 2010, 16.00 hrs. at the
Royal Gallery – Koningsstraat 37 – 1011 ET Amsterdam – City Center.
With best regards: Emma Jean Brown & Janne Buurman
www.amsterdamroyalgallery.com – 06-20105650 – info@nullamsterdamroyalgallery.com