… INVITATION …


You are cordially invited to the festive opening of our ROYAL GALLERY EXHIBITION of January
2010
:


INEKE SMITS –
MONOPRINTS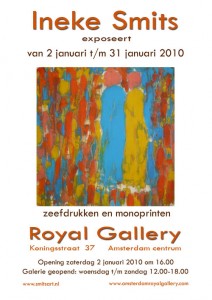 Ineke Smits creates abstract-figurative, colourful mono silkscreen graphic prints and monoprints.
She prints on paper as well as on canvas often combined with mixed media.
She takes her inspiration from her daily experiences, her photographs, her love of nature and music, as well as the spiritual and mythical aspects of life.
For more information  (Click on:) http://www.smitsart.nl/

The Opening/Vernissage will take place on Saturday 2nd January 2010, 16.00 hrs. at the
Royal Gallery – Koningsstraat 37 – 1011 ET Amsterdam – City Center (off Nieuwmarkt)
With best regards: Emma Jean Brown & Janne Buurman
www.amsterdamroyalgallery.com – 06-20105650 – info@nullamsterdamroyalgallery.com