… INVITATION …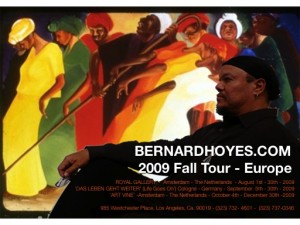 You are cordially invited to the festive opening of our ROYAL GALLERY EXHIBITION of
AUGUST
2009 :

Bernard Stanley Hoyes (Los Angeles) – Paintings

The Amsterdam Royal Gallery

proudly presents the 2009 Fall Tour Europe of  Bernard Hoyes, in association with 'Das Leben Geht Weiter' (Cologne, Germany) and 'Art Vine' (Amsterdam, the Netherlands).

Jamaican born Bernard Hoyes creates art with a spirit and a rhythm that dances off the canvas.
It is profound and full of soul.


There is a lot more information on the artist and his work on our website:

www.amsterdamroyalgallery.com / LINKS:
Bernard Hoyes
(www.bernardhoyes.com)
The Opening/Vernissage will take place on Saturday 1st August 2009, 16.00 hrs. at the
Royal Gallery – Koningsstraat 37 – 1011 ET Amsterdam – City Center (off Nieuwmarkt)
With best regards: Emma Jean Brown & Janne Buurman
www.amsterdamroyalgallery.com – 06-20105650 – info@nullamsterdamroyalgallery.com